Status: private project by Dave Ganzer, approved and supervised by Burt Rutan
Type: experimental push-pull private aircraft
Powerplant: 2 x ~64 hp Volkswagen Type 4 engines (up to 75 hp possible)
Significant date: 1982
In the fall of 1980, Dave Ganzer started building a VariEze adaptation that used two Volkswagen engines in push-pull configuration. Burt Rutan himself is said to have provided some assistance with the design. Finished in the summer of 1982, the Gemini looked sort of like a mini Defiant. It featured a roomy, two-place cockpit with side-by-side seating (as opposed to the VariEze's tandem arrangement). The push-pull arrangement was meant to provide the safety of twin-engine power without its drawbacks. If either engine failed, the plane would continue to fly straight and level because the thrust was always on the centerline of the aircraft.
The Gemini was of all-composite construction. It used the Long-EZ's outer wing panels and flew with two different canard types. Initially, Ganzer installed a GAW GU25-5(11)8 series airfoil, which offered poor performance. Once he changed for the smaller Roncz 1085 airfoil, tapered 1.5:1 with a 4-degree dihedral, the Gemini started flying "much better". Engine-wise, the aircraft was designed for small Volkswagen engines of 64 to 75 hp.
In its July 1983 issue, Popular Mechanics published an article entitled "15 Handsome Homebuilts You Can Make and Fly", and the Gemini featured prominently in a doublespread splash picture and accompanying text. Plans were to sell for $250 to $300. Unfortunately the design failed to attract sufficient interest, and the prototype remained a one-shot wonder.
With side-by-side seating arrangement to accomodate Dave and his wife Kathy, the Gemini was flown until 1991, when the airframe was sold to a friend in Mojave. It hasn't flown since and lived for a long while in a hangar at Mojave airport, reportedly with with Lycoming O-200 engines on it. In the mid-2000s the aircraft was under restoration at the Milestones of Flight Museum.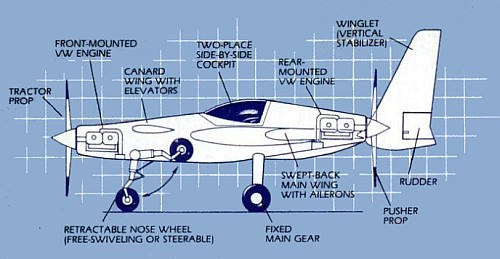 Population: 1 [N75DG]

Specifications:
Empty weight: ~1100 lbs
Gross weight: 1700 lbs
Single engine ceiling: ~7000 ft
Fuel payload: 56 gal.
Typical cruise speed:
155 mph true @ 7 gph total
Top speed: 185 mph
Crew/passengers: 2
Main sources:
- Popular Mechanics, July 1983
Thanks also to Dave Ganzer
for his help with this page.