Type: Mobile and transportable advanced technology medium range day/night low-level aerial photo-reconnaissance UAV
Type:
Program:
Powerplant: 1 x 970 lbs.st. Teledyne Continental (TCAE) Model 373-8C
First flight: 1987
In the 1980s, the San Diego, California-based Teledyne Ryan Aeronautical (TRA) followed up on its long history of robot aircraft development with two jet-propelled UAVs for tactical reconnaissance and other roles: the Model 324 Scarab and the Model 350 Peregrine, both designed and produced by TRA, using composite materials for the fuselage and major flight structures. These major components were supplied by Scaled Composites.
Initially designated the Model 124RE by Teledyne Ryan Aerospace (possibly for deceptive purposes) the Model 324 was a versatile, medium-range Tactical Reconnaissance RPV system, similar in operational concept to the old Ryan FireFly UAVs, but implemented with improved technology and easy to operate. It was a neat-looking UAV with mid-body, low-mounted, swept-back tapered wings a twin-fin tail, and an all-composite airframe stealthy design. The fuselage was flat-bottomed with a pointed nose and hump on aft top of craft. Two swept-back and tapered fins were mounted on unequally tapered flats.
Customer and contracting
The TRA 324 was formally introduced to Cairo International Military Equipment Exhibition audiences during the week of November 9, 1987. It was developed by Teledyne Ryan as a custom-designed aerial reconnaissance capability for the Egyptian Air Force in response to Egyptian Air Force requirements under commercial contract to the Arab Republic of Egypt. Under terms of the contract awarded in 1984 to TRA, the company was to deliver 29 aerial vehicles including test vehicles plus three sets of ground support equipment and Launch and Recovery Vehicles as well as operational spares to support 120 missions. Included also in the contract was the training of Egyptian personnel in operating the Model 324.

Description of program
The primary function of the Egyptian UAV was low-level photo reconnaissance. The missions were normally preprogrammed into the onboard flight control system providing automatic attitude and flight path control under the authority of a mission logic unit.
The whole Scarab system incorporated a jet-powered Aerial Vehicle with an integrated mobile Launch and Recovery Vehicle that included total system requirements for launch, air operations and recovery of the RPV. The launch booster was jettisoned once the UAV was airborne. Fully integrated, the system was autonomous in its capabilities to provide transport, launch, command and control, recovery and retrieval functions.
Technical description of the Aerial Vehicle (RPV)
The aerial vehicle measured 20 feet in length, had a 12-foot wingspan and weighed 2500 pounds, including its 150 gallons of fuel. It had a designed payload capability of 250 pounds that could include an airborne reconnaissance camera designated the KS-153A by its supplier, CAI/Recon Optical. Alternate payloads include a television camera or a Loral D-500 infrared laser system (IRLS).
The vehicle used a C-band system provided by Vega Precision Laboratories for flight command and control. The system utilized a Litton INS or stabilization and guidance, updated with a Rockwell Collins C/A Code GPS receiver for navigation. Its navigational accuracy was typically 50 meters SEP.
The vehicle's flight control concept incorporated a TRA-designed Mission Logic Control Unit which used microprocessor-based logic to control speed, payload, guidance and navigation, propulsion, fuel, electrical and recovery systems. The vehicle's physical design qualities reflected aesthetic values characterized by two earlier remotely piloted vehicles developed by TRA, the Compass Arrow and Compass Cope.
The air vehicle was ground-launched from a zero-length launch rail using a modified Harpoon rocket motor to boost it into flight from the LRV launch platform. The modified Harpoon system had a 970 pound SLST (sea level static thrust) thrust and was then jettisoned seconds after launch.
Propulsion was provided by a rear-mounted Teledyne CAE 373-8C turbojet engine with the intake on the rear spine. The turbojet engine was hidden in the aft belly compartment until launch. It powered the aircraft in flight at speeds up to Mach 0.85, performing at altitudes up to 45,000 feet.
Automatic or commanded deployment of a two-stage recovery parachute system was initiated on completion of the vehicle's mission. An Air Bag impact attenuation system was used to alleviate landing load damages.
Technical description of the Launch and Recovery Vehicle (LRV)
The system's Launch and Recovery Vehicle (LRV) integrated with the RPV for operational applications. It was an eight-wheel all-drive tractor housing a command and control center and a six-wheel self-drive trailer/launcher on which the RPV was transported. The LRV contained all required mission support functions for launch, flight control and recovery and could be operated by a crew of three.
Uploaded with its RPV resting on the launch rail in a secured position, the LRV could travel at speeds up to 52 miles per hour on road surfaces over a range of up to six hours. It also was designed for operations in forward, unprepared sites.
The LRVs featured included maximum speeds of up to 52 MPH (84 KPH) over a range of up to six hours. The system was designed for mission flexibility with operational use from forward areas and unprepared sites. It could be transported by air or over land with its air vehicle intact. The basic mover was developed by Standard Manufacturing Company.
Prototyping and flight testing
The Scarab test program began in March 1987, with the concluding test flight being conducted Mar. 12, 1988 at Mojave—a "textbook-perfect" flight where the RPV performed 44 minutes of preprogrammed flight. "From launch to recovery, it attained all objectives with precision," reported TRA Vice President Norm Sakamoto, the man who guided the program from concept to completion of its flight testing. Eighteen flights accumulating more than 16 hours of airborne operations were included. Except for two night flights, all were conducted on Saturday and Sunday, a restriction that tightly limited operations at the Mojave operations base.
The 12-month program was described as one of the most challenging of its kind in Teledyne Ryan's 66-year history. Desert winds and inclement weather caused frequent delays in the schedule as the program progressed with tenacity each step of the way. From engineering designs, and through fabrication and test operations, Model 324's "graduation" flight represented one of the shortest programs of its kind despite the delays, according to Sakamoto.
Scaled Composites built not only the prototypes but also the first production run of the Model 324. The flight test operations hangar was transformed into lines by TRA for Model 324 final assembly at Mojave International Airport. Overall operations at the Mojave facility were assigned to Phil Overlund, program manager, also an original member of the Model 324 team.

Delivery and operational status
The first 29 Scarabs were delivered to the Egyptian Air Force—the sole customer for the type—with first deliveries commencing in late spring of 1988 at a rate of seven units monthly through September 1988. TRA provided operations and maintenance training by a team of company technicians deploying to Egypt to conduct required training. A grand total of fifty-six Scarabs were eventually delivered.
In selling the Scarab to Egypt, the United States was under fire from critics, even within the military, for contributing to the proliferation of indigenous development or conversion of Western technology. The Scarab boasted a turbojet capability of transporting a 100 kg payload over 2500 km. According to USAF Lt. Col. Michael E. Dickey, "Should this system, which includes an inertial navigation system and GPS capability, be further proliferated the potential adverse impact could be tremendous."
The United States transferred short-range ballistic missiles to just three third-world countries. In contrast, it sold ASCMs to more than a dozen and sold reconnaissance drones worldwide, including the Scarab to Egypt. Interestingly, it was later revealed that the US military realized that not enough UAVs were available for fielding in the Gulf War to meet the demand. If the Gulf War had lasted much longer, the DoD would therefore have pressed into service the Model 324 UAVs built for the Egyptian military, due to the scarcity of UAVs.
Teledyne Ryan later designed the Model 350 Peregrine as a derivative of the Model 324 Scarab. In the face of the rising threat posed by the proliferation of cruise missiles, conversion of the Scarab UAV to an offensive weapon has been considered and studied by the NDIA as the Scarab-LACM. Another Teledyne-Ryan project developed in conjunction with Scaled Composites at the same time as the Scarab was the Model 410.

Population: prototypes (unknown number)
Total of 56 production Scarabs produced and delivered, all to Egypt
(approximately 50 remained flight worthy by 2005)
1 unit based in Kom Oshim Air Base, 80 km South of Cairo
Dimensions:
Wingspan: 11 ft (3.35 m)
Wing Area 2.33 m²
Overall Length: 6.15 m (20 ft. 1 in)
Overall Height: 0.86 m
Structure: All composite stealthy design
Sensors: Either the D-500 IRLS (Honeywell/LIRIS)
or the KS-153A 24" FL Photo Camera (Recon Optical),
Both Wet Film Technology Systems
Guidance: INS, pre-programmed or remote control
(LN-81 strapdown w/Collins GPS receiver updates)
Launch scheme: Modified Harpoon booster (RATO rocket motor) launch
Recovery scheme: two-stage parachute & airbags recovery
Payloads: Film storage daylight camera /TV/IRLS
Guidance system: Programmable with radio control backup
Weights:
Launch weight (fuel, no booster): 2,384 lbs. (1,077 kg)
Loaded fuel weight (included in above): 443 kg
Maximum loaded weight: 2,500 lbs. (1,130 kg)
Booster: 138 kg
Recovery system: 68.5 kg
Payload: 131.5 kg (200 lbs.)
Guidance/Air Frame: 233 kg
Turbojet engine: 63 kg
Performance:
Cruising speed: 970 km/h (about 600 mph / 520 kts.)
Maximum speed: Mach 0.8 (at 13,000 m / 40,000 ft.)
Service ceiling: 13,100 m (43,000 ft.) (45,000 ft. in some sources)
Maximum operating radius: just under 970 km
Endurance: 2.5 hours
Cruise range: 1,400 miles (1,220 nm)
Maximum range: 1,700 nm
Maximum straight line range: 2,250 km
(range also given as 3,150 km in some sources)
Crew/passengers: unmanned (deployable/operable by a 3-man crew)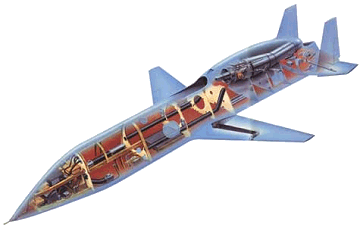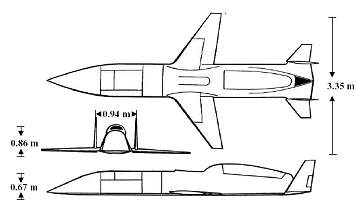 Main sources:
- GlobalSecurity.org
- www.vectorsite.net
- UAVs - Current plans and prospects for the future (Jul. 11, 1997)
- The Counterproliferation Papers - Future Warfare Series No. 7