SCALED PURCHASES TWO BOEING 747 AIRCRAFT FOR STRATOLAUNCH
Scaled Composites has bought two former United Airlines Boeing 747-422s from which to take engines and other components to use for Stratolaunch Systems' huge carrier aircraft, the Model 351 Roc. The airplanes landed at the Mojave Air & Space Port with the livery already removed and were parked by the Scaled Composites facility. So far Scaled has declined to comment about how the planes will be used.
---
SCALED COMPOSITES HOLDS FIRST EVER OPEN HOUSE CAREER DAY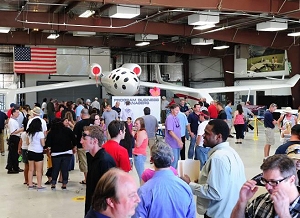 Scaled Composites held its first ever Career Day (in fact a mere four hours) At Plane Crazy on Saturday April 21, 2012. The company was especially on the lookout for qualified engineers. Two restrictions though: no foreign applications (Scaled does not offer foreign employee [H1] visa sponsorship) and no internships.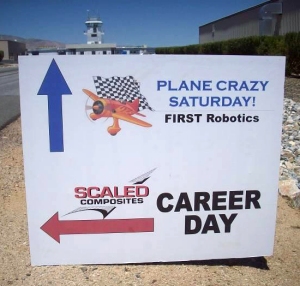 Scaled has increased employment about three-fold to about 400, since its success with WhiteKnightOne and SpaceShipOne. They have never had to layoff employees because of lack of contracts during the years since 1982, and have been continuously profitable.
NATIONAL AIR AND SPACE MUSEUM'S TROPHY AWARDED TO BURT RUTAN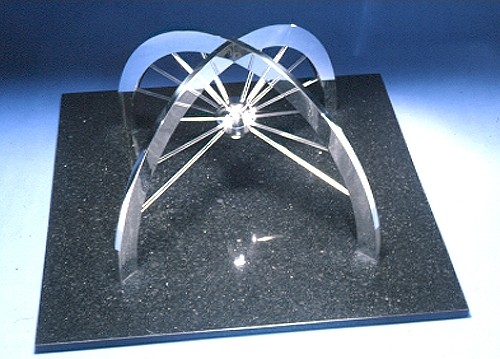 The 2012 Smithsonian's National Air and Space Museum Trophy was awarded in the Lifetime Achievement category to Burt Rutan. He was presented his awards March 21, 2012 at a black-tie dinner in Washington, D.C. Established in 1985, the award recognizes outstanding achievements in the fields of aerospace science and technology and their history. To date, five Rutan aircraft are in the museum's collections. As in past years, Trophy winners receive a miniature version of "The Web of Space", a sculpture by artist John Safer.
---
BURT RUTAN: A MOST BUSY RETIREE
As we all know, Burt Rutan retired in April 2011 in his new Idaho home, a few miles south of the Canadian border. Retired? Can this man ever retire? In his own words: « I've done a new type on average one a year since 1973, do you think I can stop that? ». His last design at Scaled, the BiPod electric roadable aircraft, had hardly been revealed that rumors about his new project, the Model 372-3, a boat/aircraft convertible, began to circulate. Last November 2011, Jeff Hecht wrote in ARC: "Bored in retirement, legendary aerospace engineer Burt Rutan is working on a new project, a high-speed winged boat that can double as a seaplane, so he can fly between lakes and rivers near his new home in Coeur d'Alene, a lakeside resort in northern Idaho." Burt also continues giving conferences, and speeches, as he did at an Inventors Association of Idaho meeting held on May 1, 2012 at the Bird Aviation Museum and Invention Center in Sandpoint.
---
BURT RUTAN HONORED WITH SPECIAL DAY OF RECOGNITION AT OSHKOSH 2011
EAA AirVenture 2011 saluted Burt Rutan with a special day of recognition along with dedicated programs and attractions on the 59th annual edition of "The World's Greatest Aviation Celebration", held July 25-31 at Wittman Regional Airport in Oshkosh.
---
SCALED NOW INTEGRAL PART OF NORTHROP GRUMMAN
Northrop Grumman Corp. has created a new business unit to aggressively pursue UAS contracts, and acquired Scaled Composites in 2007 in part for UAS design expertise. (Source: U.S. Unmanned Aerial Systems, Congressional Research Service, 2012)
46 RUTAN AIRCRAFT EXHIBITED AT THE EAA'S AIRVENTURE MUSEUM... IN LEGO!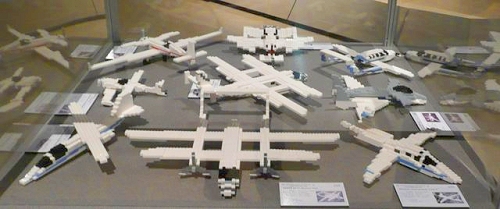 A temporary exhibit collection of LEGO® models designed and built by Jeff Rutan (son of Burt) and Cole Zellner (grandson of Burt) was held directly under SpaceShipOne at the EAA AirVenture Museum from July to December 2011. These models are built to about 1/30-scale and consist of only LEGO® bricks. The amount of aircraft on display is quite extensive, covering aircraft from the first VariViggen, SpaceShipOne and Two, White Knight One/Two, and even BiPod, Burt's latest design.
---
TWO AWARDS AT ONCE FOR BURT RUTAN

The Antelope Valley Board of Trade presented its 39th annual Business Outlook Conference on February 18, 2011, at the Antelope Valley Fair Poppy Pavilion. The theme was "Navigating Change." Burt Rutan was honored with the first annual "Navigating Change Award" and was later also honored as the Business Person of the Year. It was especially noted that he and Scaled Composites averaged producing one new aircraft each year for 46 years—a feat that even Lockheed Skunk Works designer Kelly Johnson did not come close to. After receiving the Business Person of the Year Award, Rutan spoke again briefly, stressing his motivating "all the people around me."
---
SCALED COMPOSITES PROVIDES TOOLING FOR OFFSHORE FISHING YACHT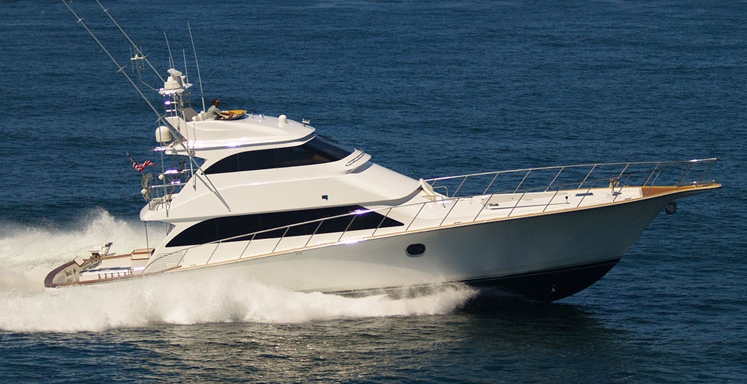 In line with Burt Rutan's invaluable contribution to the Wing Sail design on the famed Stars & Stripes boat, Scaled Composites' reliability and expertise has reached beyond the realm of aviation for a long time. A recent example is the Tournament 75, a sleek, fully enclosed innovative offshore sportfisher produced by Titan Marine in San Diego that meets the requirements of a variety of fisheries. Scaled provided CNC tooling on that model: CNC machines are used to perform various material removal operations such as drilling, making slots and to make unique shapes in metals, plastics, wood and other solid materials.