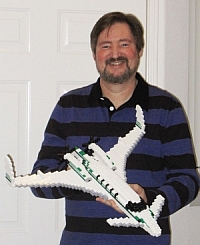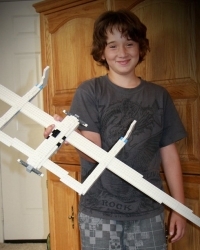 BURT RUTAN'S SON JEFF AND HIS GRANDSON COLE KEEP THE LEGEND ALIVE... IN LEGO
®

!

With the contribution of his nephew Cole Zellner, Burt Rutan's son Jeff has developed a whole range of LEGO® models inspired by his father's design history, and built no less than 46 1/30-scale LEGO® models. Far from being just a weekend hobby though, the experience is meant as a creative and educational experience for new generations of young people to access the history of the Rutan legacy.

To this effect Jeff has developed tutorials on how to recreate these fascinating aircraft in LEGO® and tried in vain to get the toy company's interest in publishing them. He eventually decided on self-publishing and is now offering a series of eight volumes at AeroSpace Bricker covering all 46 aircraft organized by theme: "World records with Dick Rutan", "First Flights with Mike Melvill", "High Adventures with Richard Branson" and so forth.

Jeff admits to finding the STARGAZER website useful as he struggled to collect information about the history of Rutan/Scaled craft history. "Even as Burt's son it has been difficult for me to reconstruct this history with sufficient accuracy as the early craft are not so well documented and the newer craft are often classified in a way that my dad is not allowed to provide any information. So I am for the most part [...] left to scouring the Internet and old print resources to find whatever I can."

The Rutan LEGO® collection was exhibited at the EAA AirVenture museum in Oshkosh, Wisconsin, from the last week of July 2011 (AirVenture) through the end of that year.